1. World Championship Judo in ID-/G-Judo Cologne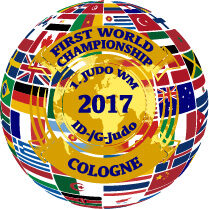 [youtube https://www.youtube.com/watch?v=BIrqNgLrFEU&w=560&h=315]
Official sanctioned

World Championships by
From 19 to 22 October 2017 the first Judo World Championship will take place in Cologne.
All national teams worldwide are invited to participate.

We at IFoN sustainably support this historic event in Judosport. Report all your nations and your ID / G Judoka.

The great World Associations INAS, headed by Director Nick Parr

& the honorable International Judo Federation IJF, under the leadership of their President Marius Vizer, have sanctioned this first world championship.
Under the German leadership of DJB President Peter Frese in cooperation with the DBS – NPC under the leadership of its President Friedhelm Julius Beucher
& VG-Project e.V. Cologne